K&N Air & Fuel Ratio Monitors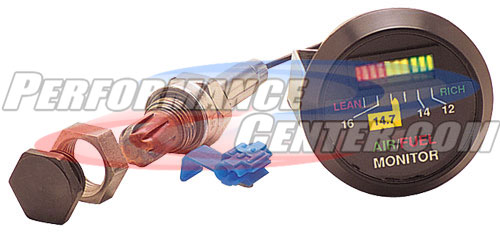 The K&N Air/Fuel Monitor is a precision instrument designed to help performance enthusiasts calibrate an optimum air/fuel mixture ratio. This device will work on carbureted, injected, supercharged, or turbocharged engines using unleaded gasoline, alcohol, propane, or nitrous oxide. It will not work with nitromethane or diesel fuels. Using the instrument to monitor the engine's air/fuel mixture ratio, a tuner can adjust for power, economy, and/or improved driveability. To read the air/fuel mixture, the system uses an oxygen sensor to sample the exhaust gas. The sensor sniffs the exhaust and measures the amount of oxygen present in the spent gases. When used as part of a computer controlled feed-back system, the oxygen sensor tells the computer (via a small electric signal) when the air/fuel ratio is rich, lean or just right. The computer reacts to the signal by re-calibrating the fuel delivery system thousands of times per second. This feedback control loop, or closed loop, system maintains a near perfect air/fuel ratio throughout the entire operating RPM range. Your K&N Air/Fuel Monitor uses this same electric signal to illuminate a group of 10 LED lights that correspond with an air/fuel ratio scale. Reading the scale will tell if your fuel calibration is rich, lean, or just right. Using the Monitor as a tool, a tuner can adjust for peak performance, economy and/or driveability under any load condition or throttle setting. The Monitor reads oxygen left in the exhaust regardless of what fuel is used, so the number of lights and the corresponding scale remains the same. Monitors have red, yellow, and green lights that require 100 millivolts per light for a total of 1.0 volt. A K&N Air/Fuel Monitor has many uses. For example, it can be used as a guideline for preparing a vehicle for emissions testing or as a piece of dynamometer test equipment. Or you can calculate the amount of carbon monoxide (CO) and hydrocarbon (HC) emissions as related to the air/fuel ratio. Leaning the air/fuel mixture reduces CO and HC emissions. The Air/Fuel Monitor can also be a helpful tool when setting the idle mixture screws on an engine equipped with a large camshaft and automatic transmission. Chalk the wheels, start the engine and put the transmission in drive. Adjust the idle mixture screws until the 8th light on the Monitor glows steady. The engine should then idle in drive without stalling. Installing an oxygen sensor in each exhaust pipe is an excellent way to confirm a fuel distribution problem. If you would like to monitor both banks, install a second oxygen sensor in the other pipe. Then switch between the sensors with a switch (purchased locally).
Showing 1-4 of 4 products
Page 1 of 1
Retail Price: $305.99
Sale Price:
$160.32
Shipping: Free!

Retail Price: $214.99
Sale Price:
$112.45
Shipping: Free!

Retail Price: $363.99
Sale Price:
$190.57
Shipping: Free!

Retail Price: $266.99
Sale Price:
$140.00
Shipping: Free!