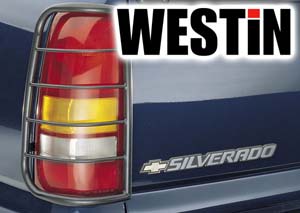 To complete the Sportsman look, add Westin's Tail Light Guards to your vehicle. Westin's tail light guards are available in two finishes; chrome plated 304 stainless steel tubing and black powdercoat made from hot rolled carbon steel tubing. Westin Sportsman Tail Light Guards are sanded to achieve the smoothest possible finish and welds. They offer superior protection and are a perfect complement Westin's Sportsman Grille Guards. Custom made for an exact fit on your truck or SUV.
Westin's new Sportsman Tail Light Guards are the perfect compliment to the Sportsman Grille Guard. Finish the customized look of your vehicle with this durable piece of steel tubing. The lines of the tail light guard have been carefully structured to enhance the lines of the tail light on your vehicle.
Retail Price: $320.99
Sale Price:
$192.10
Shipping: Free!